KIN features a crowd-pleasing menu centering on the premise of American comfort food.
Our menu evolves seasonally to reflect the best of California's bounty.
Red sauce, fresh mozzarella, fresh basil.
Red sauce, shredded mozzarella, pepperoni
Red sauce, shredded mozzarella, pepperoni, Genoa Salami, Italian sausage, olives, pickled japaneos, minced garlic
Alfredo sauce, mozzarella cheese, spinach, artichoke hearts, garlic, and red onion
Thick crust, red sauce, shredded mozzarella, KIN mac & cheese, applewood smoked bacon
KIN BBQ Sauce, shredded mozzarella, shredded smoked white cheddar, BBQ chicken, applewood smoked bacon, red onion, tomato, fresh cilantro
Red sauce, shredded mozzarella, roasted fennel, mushrooms, spinach, Italian sausage, thyme, grated parmesan cheese
Pesto, mozzarella cheese, grilled chicken, arugula, chopped garlic, red onion, bacon and honey drizzle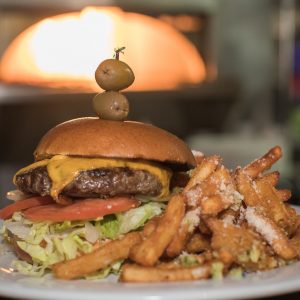 Sliced roasted D'Anjou pears, caramelized onions, mixed greens dressed in balsamic vinaigrette, melted brie, toasted telera bread
Grilled chicken breast, shredded lettuce, tomato, onion, melted mozzarella, pesto aioli, toasted telera bread
Thin-sliced, slow-roasted top round, melted Grand Cru Gruyere cheese, smoked horseradish cream, toasted hoagie, garlic au jus
Thinly-sliced pastrami, sauerkraut, Russian dressing, Swiss cheese on sliced marble rye bread
Certified Angus Beef patty, sharp cheddar cheese, lettuce, tomato, onion, toasted brioche bun
Certified Angus beef patty, smoked white cheddar cheese, applewood smoked bacon, KIN BBQ sauce, lettuce, tomato, onion, toasted brioche bun
8oz burger patty, mushroom duxelles, bacon, melted Swiss cheese, arugula, and sliced tomato
Fresh roasted sliced turkey on a toasted hoagie roll, Cajun remoulade, iceberg lettuce, tomatoes, and pepperoncini.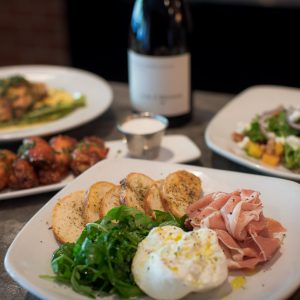 12oz New York strip steak seasoned with our house coffee rub, grilled and topped with a roasted garlic butter. Served with whipped mashed potatoes, seasonal vegetables and bordelaise sauce.
Red wine braised short rib with demi-glace, creamy polenta, with shaved yam crisps
BOURBON MUSTARD GLAZED PORK CHOP
Bone-in pork loin chop, grilled to medium-rare, Evan Williams Bourbon and Dijon mustard reduction, creamy polenta, chef's selection of seasonal vegetables
Seasoned bone-in oven roasted chicken breast topped with an onion cream sauce. Served over creamy avocado risotto and dressed arugula.
Cavatappi pasta served with creamy white cheddar cheese sauce, topped with toasted parmesan bread crumbs
Seared 6oz wild caught salmon filet seared with blackening spices and served with jasmine rice, seasonal vegetables, and a mustard cream sauce
Sauteed shrimp, blistered cherry tomatoes in a cilantro miso pesto sauce. Tossed with fettucine noodles and garnished with toasted sesame seed and fresh cilantro.
Creamy avocado risotto with grilled asparagus, spring peas, and chopped bacon. Topped with shaved parmesan.
Sauteed prawns with mushrooms, crispy bacon, and a cajun tomato cream sauce, served over creamy polenta
Beer battered cod served in corn tortillas with sweet and spicy slaw, avocado cream sauce, cotija cheese, and fresh cilantro. Side of greens with cilantro lime vinaigrette and pico de gallo.
*Can be made gluten-free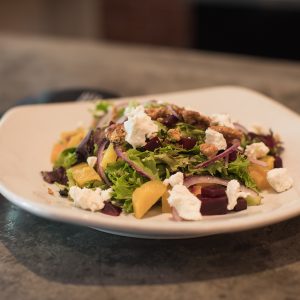 Romaine lettuce, Caesar dressing, parmesan cheese, crostini
Full – $12.00
Half – $7.00
Mixed greens, dressed beans, cherry tomatoes, sliced red onion, cucumber, crostini, red wine vinaigrette
Full – $12.00
Half – $7.00
Mixed greens, goat cheese, red onion, candied walnuts, red and gold beets, toasted fennel vinaigrette
Full – $14.00
Half – $8.00
Two iceberg wedges, applewood smoked bacon, sliced pear, Pt. Reyes bleu cheese dressing. *Can be made gluten-free (alternate dressing)
Full – $12.00
Half – $7.00
Chopped Kale, crispy pancetta, candied walnuts, red onions, shaved parmesan, grilled chicken, blood orange vinaigrette
Mixed greens, marinated chicken breast, sauteed bell peppers and onions, black beans, salsa fresca, cilantro lime vinaigrette, cotija cheese, guacamole, fresh cilantro, crispy corn tortilla strips
Baby spinach, candied almonds, fresh raspberries, red onion, cucumber, panko crusted fried Brie cheese, grilled chicken, poppy seed vinaigrette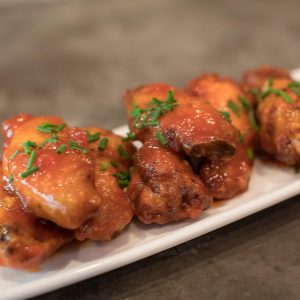 PROSCIUTTO & BURRATA PLATE
Thin sliced prosciutto, burrata cheese, arugula, olive oil, pepper and parmesan crostinis
Fried to crisp, braised pancetta, grated parmesan
Slow roasted chicken thighs wrapped in three crispy corn tortillas with red bell pepper aioli, house-made guacamole, house-made salsa fresca, and cotija cheese
Pacific Palisades free range chicken wings and drumettes, tossed in KIN BBQ sauce, with ranch dressing for dipping
Half Order – $10.00
Full Order – $17.00
Pacific Palisades free range chicken wings and drumettes, tossed in "Truffalo" sauce, with bleu cheese dressing for dipping
Half Order – $10.00
Full Order – $17.00
Dungeness crab, creamy sriracha & melted brie dip, served hot with toasted French bread
Caramelized onion hummus, olive tapenade, roasted honey almonds, parmesan crusted flatbread
*CAN BE SERVED WITH GLUTEN-FREE FLATBREAD + $3
FRIED BUTTERMILK CALAMARI
Buttermilk brined, dusted in seasoned flour, served crispy with lemon aioli
Tempura battered Dill pickles, dredged in panko breadcrumbs, served crispy with house-made ranch dressing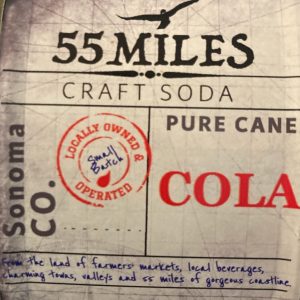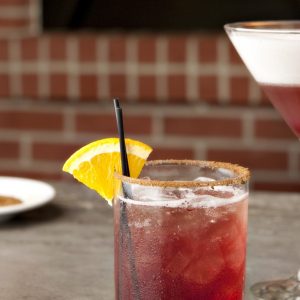 Blood Orange Cosmo -Tito's, Triple Sec, Blood Orange Puree, House Sweet & Sour
Sonoma Smash -Sonoma Brothers Vodka, St. Germaine, Lemon, Mint, Soda Water
Berry Bramble -Gin, Chambord, Lemon, Simple Syrup
KIN Margarita -Tequila, Orange Liqueur, House Sweet & Sour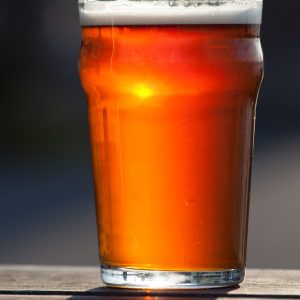 Coors Light, Coors Brewing Company American Light Lager 4.2% ABV
Pint – $5.00
22oz. – $7.00
Tremor, Seismic Brewing Company Light Lager 4.2% ABV
Pint – $8.00
22oz. – $10.00
805, Firestone Walker Brewing Company American Blonde Ale 4.7% ABV
Pint – $7.00
22oz. – $9.00
Stoked On, Henhouse Brewing Company Single Hop Pale Ale Various ABV
Pint – $8.00
22oz. – $10.00
Little Sumpin' Sumpin', Lagunitas Brewing Company American Pale Wheat Ale 7.5% ABV
Pint – $8.00
22oz. – $10.00
Happy Hops, Russian River Brewing Company American Pale Ale 6.5% ABV
Pint – $8.00
22oz. – $10.00
Megathrust, Seismic Brewing Company American IPA 7.5% ABV
Pint – $8.00
22oz. – $10.00
Racer 5, Bear Republic Brewing Company American IPA 7.5% ABV
Pint – $8.00
22oz. – $10.00
Budweiser, Anheuser Busch American Lager 5% ABV
Bud Light, Anheuser Busch American Light Lager 5% ABV
Michelob Ultra, Anheuser Busch Low-Carb American Light Lager 4.2% ABV
White Claw Hard Seltzer, Various Flavors 5% ABV
Mighty Dry, Golden State Cider Dry Apple Cider 6.9% ABV
Modelo Especial, Mexican Pale Lager 4.4% ABV
Corona Extra, Mexican Adjunct Lager 4.2% ABV
Great White, Lost Coast Brewery Belgian Witbier 4.8% ABV
Blue Moon, Coors Brewing Company Belgian Witbier 5.4% ABV
Pale Ale, Sierra Nevada Brewing Company American Pale Ale 5.6% ABV
Sumpin Easy, Lagunitas Brewing Company American Ale 5.7% ABV
IPA, Lagunitas Brewing Company American IPA 6.2% ABV
The Brothermaker, Barrel Brothers Brewing Company American Double IPA 8.2% ABV
Maximus, Lagunitas Brewing Company American Double IPA 8.2% ABV
Dark Sarcasm, Barrel Brothers Brewing Company American Porter 7% ABV
Nitro Merlin, Firestone Walker Brewing Company Nitrogenated American Milk Stout 5.5% ABV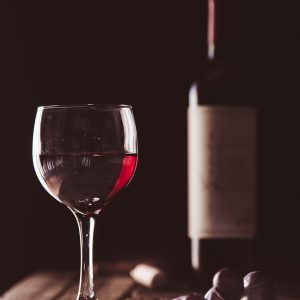 Benvolio, Prosecco, DOC- Italy
Glass – $8.00
Bottle – $30.00
J Brut, California Cuvée, Russian River Valley
Glass – $12.00
Bottle – $46.00
Sonoma-Piper, Brut Rosé, Russian River Valley
Glass – $13.00
Bottle – $52.00
'19 Raeburn Vineyards, Rosé of Pinot Noir, Sonoma County
Glass – $9.00
Bottle – $34.00
'19 Balletto, Rosé of Pinot Noir, Russian River Valley
Glass – $11.00
Bottle – $42.00
'19 Lucky Rock, Sauvignon Blanc, Sonoma County
Glass – $10.00
Bottle – $38.00
'19 Pedroncelli, Sauvignon Blanc, East Side Vineyards, Dry Creek Valley
Glass – $10.00
Bottle – $38.00
'18 Matanzas Creek Winery, Sauvignon Blanc, Sonoma County
Glass – $11.00
Bottle – $42.00
'18 Kendall-Jackson, Chardonnay, "Avant" California
Glass – $10.00
Bottle – $38.00
'18 Tonti Family Wines, Chardonnay, Redwood Valley, Mendocino County
Glass – $12.00
Bottle – $46.00
'18 La Crema, Chardonnay, Sonoma Coast
Glass – $13.00
Bottle – $52.00
'18 Balletto, Pinot Noir, Russian River Valley
Glass – $12.00
Bottle – $46.00
'18 Ernest Vineyards, Pinot Noir, Sonoma County
Glass – $13.00
Bottle – $52.00
'17 La Crema, Pinot Noir, Russian River Valley
Glass – $15.00
Bottle – $58.00
'19 Bonterra, Merlot, Mendocino
Glass – $11.00
Bottle – $42.00
'18 Pedroncelli, Zinfandel, "Mother Clone" Dry Creek Valley
Glass – $10.00
Bottle – $38.00
'17 Fritz, Zinfandel, Dry Creek Valley
Glass – $13.00
Bottle – $50.00
'18 Tonti Family Wines, Zinfandel, Russian River Valley
Glass – $15.00
Bottle – $58.00
'18 Valley of the Moon, Cabernet Sauvignon, Sonoma County
Glass – $12.00
Bottle – $46.00
'18 Beringer, Cabernet Sauvignon, Knights Valley
Glass – $14.00
Bottle – $54.00
'17 Colagrossi, Sangiovese, Mendocino County
'16 Cambria, Syrah, Santa Maria Valley
Glass – $12.00
Bottle – $46.00
'17 Mounts Family Winery, Malbec, Dry Creek Valley
'16 Meeker Vineyards, Grenache, Dry Creek Valley